What is a Bridge?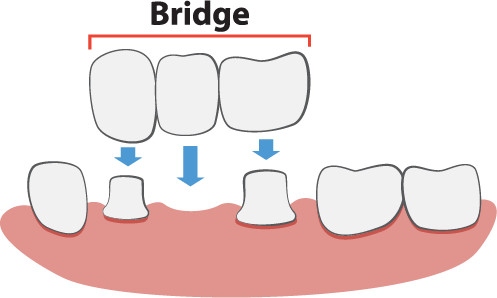 One option for replacing one or two missing teeth is a fixed bridge. This restoration is generally made out of porcelain and is highly aesthetic and functional. It is also a permanent solution as a partial denture is removable.
There are several reasons you may need a fixed bridge:
To fill in the space of missing teeth
Maintaining the shape of your face
Prevent your remaining teeth from drifting and moving out of position
Restoring your ability to chew your food or speak properly
Improve and restore your smile
Upgrade from a partial denture to a more permanent solution.
What is the process like?
If you decide to get a fixed bridge after talking to the doctor about your options, then you need to be prepared for a couple more appointments. While your teeth are numb, the teeth supporting the bridge have to be prepared to receive the crowns on either side.
We will then make impressions of your teeth including the area where the teeth are missing in order to prepare the restoration. In addition, we will create a temporary bridge that will be worn until your next appointment.
At the second visit, we will place your fixed bridge and check to make sure it fits well and there are no problems. The doctor and team will give you instructions on how to care for your new permanent bridge.
If you have missing teeth, then a fixed bridge may be a good solution for you. Not replacing missing teeth can lead to other issues that can be more costly and require more time in the office. We will be happy to consult with you and see which solution will be the absolute best for your case.
If you have any questions about bridges or would like to schedule a consultation with your Abilene dentist, Dr. Robert Leedy or Dr. Nikki Green at Leedy Dental, give us a call at (325) 268-0013 or schedule a visit online!