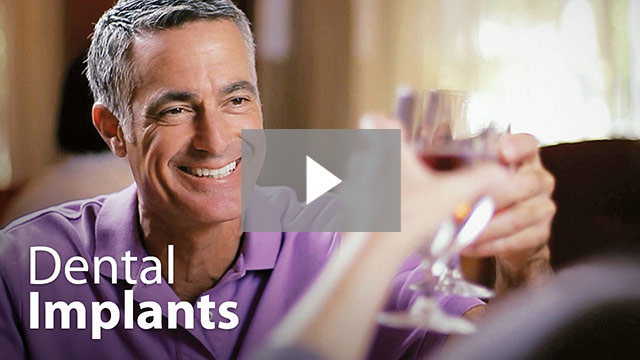 What are Dental Implants?
Traditional fixtures like dental bridges and dentures will not help in preserving the jawbone and often need replacement or repairs. You can enjoy a long-term solution along with a beautiful and beautiful, natural-looking smile with dental implants.
Dental implants are designed to replace the tooth root, and can then be fitted with natural-looking restorations like crowns, completely fixed implant bridges, or implant-supported dentures.
The biocompatible and decay-resistant titanium implant post acts as a natural root and will stimulate bone growth. It will also provide you with a stable solution for biting and chewing securely.
Secure Your Smile & Your Future
Schedule a consultation today!
Dental implants cannot be removed, so there is no need to worry about adhesives or other embarrassing issues presented by removable restorations. With proper home care and regular maintenance, your dental implants should last a lifetime and ultimately save you time and money.
What's the process like?
A thorough examination will be conducted by your dentist prior to the dental implant procedure. The dentist will examine your teeth and the jawbone in order to get an assessment, whether the gums are healthy, and if you have enough bone to properly support an implant. We will use our advanced 3-D digital imaging software to develop impressions of your mouth and to ensure a proper replacement of the teeth.
A local anesthetic will be administered to minimize any pain and discomfort which you may feel. The dentist will then place the titanium post implant into the bone socket of the missing tooth. During the healing, it will grow around the implant.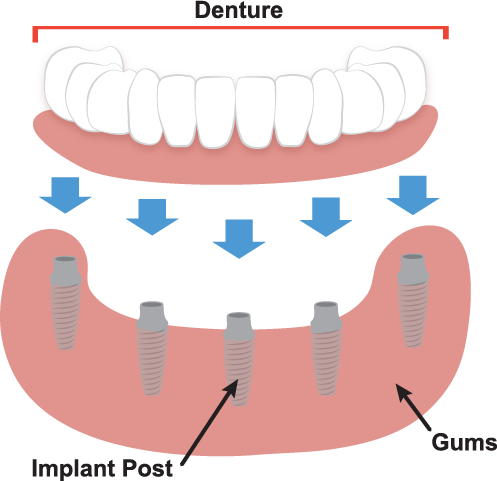 The healing process of the jawbone can take between 3 to 6 months because it lays a strong foundation for the replacement tooth to be placed. During this time, a small abutment tooth is attached to the implant because it will allow a crown to be placed. Dentists can also use other replacement options such as completely fixed implant bridges or implant-supported dentures to replace several or all of your teeth. The replacement teeth match color, shape and size of your natural teeth for a consistent appearance.
After the installation of the dental implants, you will have little or no pain. Over-the-counter medication can be taken if you notice any soreness in the area. It is important for you to practice good oral hygiene after the procedure. This includes regular brushing, flossing and rinsing with an antibacterial mouthwash. You must also remember to remain in regular touch with your dentist.
If you practice proper oral hygiene and treat the dental implant with care you will find it is extremely durable and will last for a long time. Sometimes the replacement teeth can deteriorate because of wear and tear and in such cases, they may need to be replaced eventually.
Mini Implants
If you have suffered from bone loss due to missing teeth and are not a candidate for standard implants, we may still be able to help you with mini implants. Mini implants are smaller than traditional implants (obviously) so they require less bone structure to place and are generally more affordable than standard implants. Talk to your Abilene dentist to find out which option is best for you.
If you have any questions about dental implants or would like to schedule a visit with your Abilene implant dentist, Dr. Bob Leedy or Dr. Nikki Green at Leedy Dental, give us a call today at (325) 268-0013 or schedule a visit online!