Digital X-Rays
[et_pb_section admin_label="section"][et_pb_row admin_label="row"][et_pb_column type="2_3″][et_pb_text admin_label="Text"]
Digital X-Rays Can Reveal The Unseen
Digital x-rays are a necessity when precautionary diagnostic methods that can provide important details cannot be seen during a typical dental exam. We utilize x-rays and their results carefully to identify and accurately diagnose hidden problems to provide the exact treatment required. Without the use of these x-rays, it would be impossible spot problems within the mouth.
What Dental X-Rays Can Show?
Swelling Or Abscess.
Loss of bones.
Malignant and benign tumors.
Decay between the teeth.
Deformities in development.
Poor tooth and root placing.
Problems within a tooth and beneath the gum line.
By identifying problems early we are able to save you time and money.
Are Dental X-Rays Safe?
Dental x-rays are not just safe but also effective. In the surroundings, we have people are unprotected by natural radiation. The exposure to radiation from a set of x-rays is equivalent to the amount of radiations people get during the day from different natural sources.
Dental x-rays are harmless because the intensity of radiation generated is minimal. Essential safety measures are acquired by our dentist to ensure and minimize the vulnerability of the patient to radiation during the process of undergoing dental x-rays. These preventive measures require the following:
Making use of lead apron shields to keep the body covered and protected.
Utilizing the latest quick x-ray film to trim down the exposure time to the x-ray.
Frequency Of X-Rays To Be Taken
The demand for dental x-rays will depend on the health requirement of the patient. The dentist and the hygienist will determine the number of factors needed depending upon the assessment of the medical and dental background, dental tests, signs and symptoms, age, and the possibility of any complications or illnesses before determining the number.
[/et_pb_text][et_pb_text admin_label="Text" background_layout="light" text_orientation="left" use_border_color="off" border_color="#ffffff" border_style="solid"]
Related X-ray Articles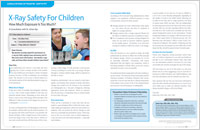 X-Ray Safety For Children
Nearly every diagnostic testing procedure carries some risk, so it's always important for you and your healthcare provider to weigh the benefits against the risks. This is particularly true when it comes to children, who are more sensitive to x-rays than adults… Read Article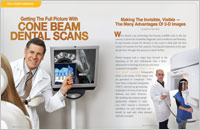 Getting The Full Picture With Cone Beam Dental Scans
Dental imaging took a major leap forward at the beginning of the new millennium with a three-dimensional technology known as cone beam computed tomography (CBCT). The name comes from the cone-shaped beam of x-rays the CBCT machine projects as it rotates around a person's head, taking multiple images that are compiled into a 3-D picture by a computer. Find out what CBCT can reveal and how it helps a doctor to make a highly informed diagnosis and choice of treatment… Read Article
[/et_pb_text][/et_pb_column][et_pb_column type="1_3″][et_pb_sidebar admin_label="Sidebar" orientation="right" area="sidebar-1″ background_layout="light" remove_border="off"]
[/et_pb_sidebar][/et_pb_column][/et_pb_row][/et_pb_section][et_pb_section admin_label="Section" fullwidth="off" specialty="off"][et_pb_row admin_label="Row" make_fullwidth="off" use_custom_width="off" width_unit="on" use_custom_gutter="off" padding_mobile="off" custom_margin="-65px|||" allow_player_pause="off" parallax="off" parallax_method="off" make_equal="off" parallax_1="off" parallax_method_1="off" column_padding_mobile="on"][et_pb_column type="4_4″][/et_pb_column][/et_pb_row][/et_pb_section]